Subject: Hitman - A review

Josh was very keen for me to see this movie, but I wasn't so sure about it. From the sound of the name I was expecting another typical movie about a Hitman and some predictable stunts. But Josh convinced me by saying it had a fun story line.

And I'm happy to say I really enjoyed it!

I haven't played any of the games, and had little idea of the storyline. So it was all a little new for me. All I knew is that the guy has been bred to be a hitman.




The main portion of the movie was set in Russia. I quite liked this for something a little different, some different accents etc. Our pirated version didn't have the subtitles, so there were times we didn't know what they were saying, but it didn't make it any harder to work out the storyline.

It wasn't a complex story, but I didn't mind that too much. What was really interesting was to see the development of the main characters (47 and the girl) both personally and in their relationship with each other. 47 actually showed that he does relate to people, and isn't a cold hard killer all the time. He's just not so good at being romantic or anything. There were some great scenes that had a look into just how good he is at what he does, both mentally and physically.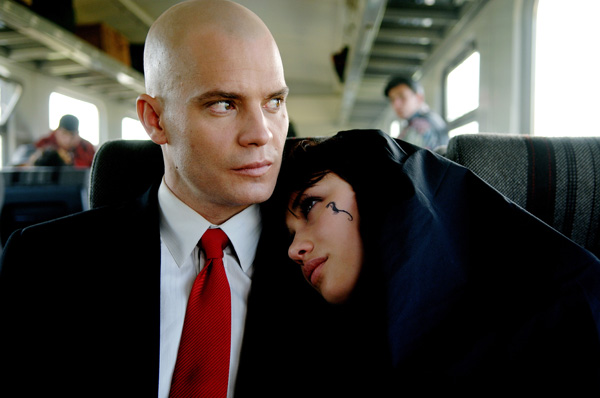 Part of the story revolved around the forces trying to catch 47, which was quite fun at times. Watching the smaller guys who have been tracking him for ages, trying to work around the higher operatives. The army makes some mistakes which 47 uses to his advantage as you'd expect, but when you watch an action movie you expect to see that kind of thing.




The movie was rated R I found out later, but I didn't really pick it up when watching it. Maybe because I've gotten older, but I didn't think it was that bad. I mean, some nudity, some death, some language, but nothing toooo shocking.

I quite liked the way many of the scenes were shot. They did it in a game style, keeping with the main character, using areas you'd expect to have in a game. This could be done really poorly, but they seemed to pull it off well.

Can't remember exactly what the soundtrack was like, but it must have been done quite well. I usually only notice if it's super awesome, or bad.




Plus: The main character was sexy. Really really sexy. I mean, he's not THE most attractive guy, but something about the way he did that character.... goddamn. Especially in the suit, with the long jacket... he does bald well... Mmmmm

Also, they were orrigionally going to put Vin Deisel as 47. Here is what it would have looked like with him doing it.




So not sexy.

Anyway, a good movie. Diehard fans of the game might not be so impressed, but I enjoyed it.